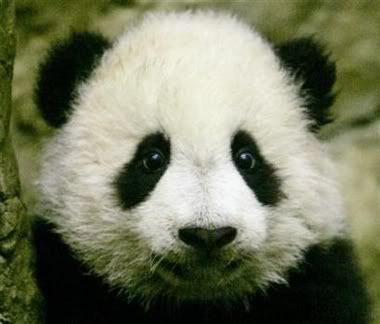 You all know who this is right? This guy has been all over the news. His name is Tai Shen. He's about 4 months old and he's a very special boy. He is the first successfully-bred panda at the National Zoo in Washington. He's going to be raised in Washington D.C. and then he's sent to China as part of the sexy Panda international sex-off anti-extinction program. I'm told that may not be the actual name though. Isn't that wonderful? Isn't he the most adorable thing you've ever seen? Don't you just want to hug him, love him, and tell him all your dirty little secrets?
NO! Do not trust this panda. Do not trust any panda. It's also a good idea to stay away from bears. I know that I have a long history of bigotry against pandas, bears, and pretty much all animals in general, but I assure you that it's warranted.
Am I the only one that sees what's happening or am I just some insane crackpot with a crack pipe? I know that the cold war was pretty much dead 20 years ago but I didn't think that we'd forget just how diabolic communist could be so easily. Something originally from communist China has infiltrated the hearts and minds of Americans while living in the capital of capitalism, Washington D.C.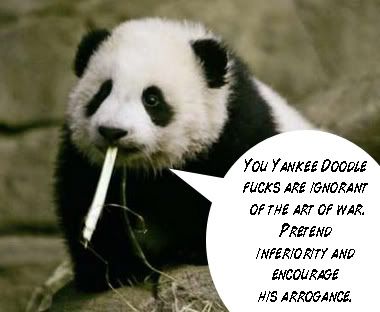 This little guy is a spy. He was born with the knowledge of Sun Tzu, the strength of a bear, and the adoration of young and old. A google image search of "Shen Tai" reveals a bunch of pictures of people doing Kung Fu. That's dangerous. He welcomes you in with pure cuteness, steals your wallet, bites your face off, and kung fu kick's your lifeless corpse into a pile of American bones. It's a lot like the Greek sirens only less body hair.
The power of China is rising. The amount of baby pandas on the news is rising.
Hippie fucks and coffee house beatniks are still preaching the words of Mao Zedong
.
This is not a coincidence. This is dangerous. We can not allow this to continue to happen.
Other stupid panda and/or bear propaganda pieces..
Don't believe this "Pandas don't eat people" bullshit
.
Pandas are secret weapons that will be used against us in World War III
Pandas are insane coke addicts.
Bears are evil and should be killed but they probably would make the winter Olympics more entertaining.