I love
Free FM Live 105.3 KllIKYNG: The Alternative Talk that Rocks Texas
,
or whatever the fuck they call themselves now. They have always been nothing but great to me and my efforts. I owe them a lot. If it wasn't for
Pugs and Kelly
and that station, I wouldn't be the second most famous person in my high school. That means a lot to me. I had a lot of people in my graduating class, but I have a responsibilities to my feelings. I'm outraged. I'm scared. I'm every negative emotion that can be had by a human being and I just can't take it anymore.
A new morning radio talk show debuted today. David Lee Roth, formerly of Van Halen and presently a massive douche chill, is syndicated in six cities. I believe those six cities have an apology owed to them.
I attempted to enter my listening session with an open mind. I wasn't expecting the true replacement of Howard Stern. I wanted DLR's show to be good. I was hoping to hear fascinating tales from a man that has undoubtedly led a fascinating life. I was dying to hear advice from a man that has done it all. What I heard made me want to cut my ears off with Magic Johnson's shaving razor.
I could only stand hearing a little over 15 minutes or so during the first hour. I had to work anyway. As I worked, I forgot about the possibility that this show gave me a brain hemorrhage. I gave it another listen in the final hour of the show. That's right folks, AIDS ear again.
It was like a nightmare that wouldn't end. He was like an awful formerly coked up monster that was now fueled by coffee, cigarettes, and an inflated feeling of self-worth. Spots featuring the slogan, "nothin' but yeah" were accurate. That and his name seemed to be all he really said.
"yeah... It's me, David Lee... Yeah........ so I can fly a helicopter... yeah... I know martial arts, I learned from the old Japanese masters... yeah"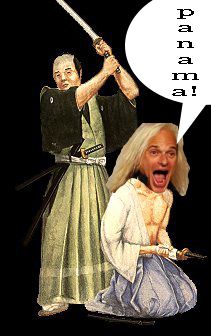 Mr. Roth, if you truly learned from old Japanese masters then I hope they taught you seppuku. You dishonored your family name. Ritualistic suicide is the only logical next step.
I think DLR needs people of Dutch descent helping him out. Kicking really high in tight pants just seems silly when you're by yourself.
People that know me and regular readers of Team Wilco know that I have a mild case of "Jew Envy". I prefer dating Jewish women and I have a love for making tops out of clay. I even forced my fiend Alin to be Jewish because I felt like I didn't have enough Jewish friends. Despite my love for all things Semitic, David Lee Roth made me almost understand why Hitler had Jewish people killed. It really pains me to say that. I hate it when I'm forced to sympathize with the Nazi cause. That's so stereotypical of Dallas talk radio listeners.
Now, I love Diamond Dave for his contribution to Van Halen. The sophomoric actions and immature lyrics mixed with kick ass guitar work is something that I cherish to this day. I periodically shout "PANAMA!" at people while I'm driving down the street in my Nissan. I love it, but I also love Van Hagar. If Sammy Hagar can do your old job better than you could, he can probably do your new job better too. Keep that in mind. That red headed bastard is just waiting in the weeds like a snake in the grass. Hmmmm weed and grass, hell yes.
David Lee Roth in place of Howard Stern is like this...
Howard was like waking up with a cute chick every morning. After a while, it's fun but it's not special. She doesn't fascinate you like she once did. Hell, you only bang her because there is nothing better to do. Then one day, she leaves. You sort of miss her but you look forward to trying new things. You get drunk and pilled up. You pass out for two weeks. When you wake up, you find yourself sleeping next to some old broad that looks like Gary Oldman in Francis Ford Coppola's Dracula movie before he got young so that he could screw Winona Ryder and that red headed whore. Now, you're willing to pay for the cute girl to come back to your life.
On the Will the Blogger sexual rating system, David Lee Roth in the mornings is the equivalent of being raped by broken glass man. Broken glass man is black. It's that bad.
In conclusion, it wasn't a "thunderbolt in my cheerios". That was some bullshit false advertising. It was more like a turd. A fat man's turd. Thanks for having a fat man crap in my cereal, David.